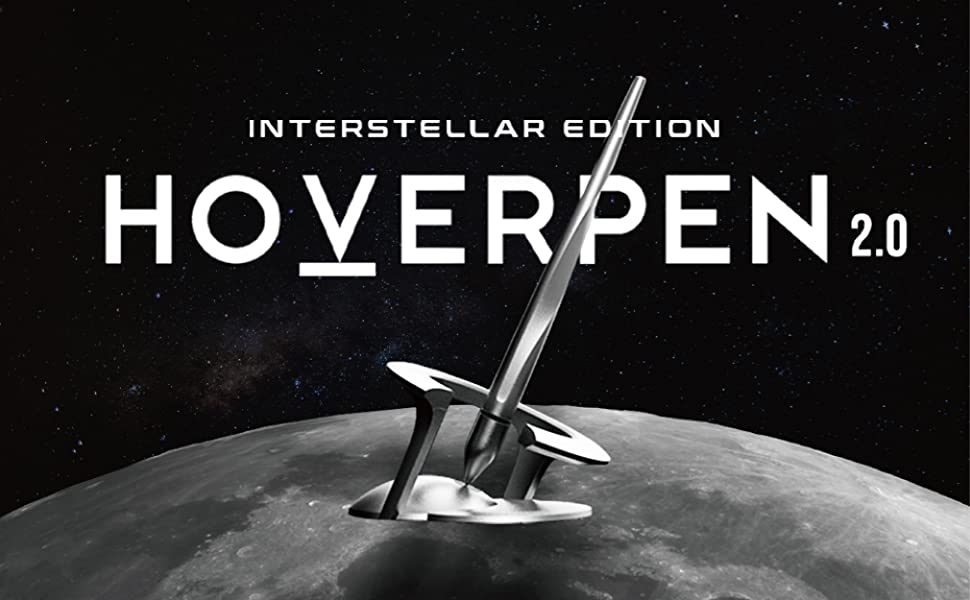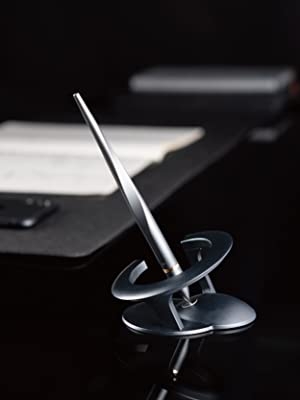 What is a hoverpen?
A Hoverpen 2.0 is a futuristic pen that utilizes a magnetized ring to float at a 23.5-degree angle, giving it a gravity-defying appearance. The pen is designed to be a conversation starter and a unique decoration for your desk. It comes in a variety of colors and has a satisfying twist in its slim, streamlined aluminum body. The pen writes beautifully and has a magnetic cap to prevent loss. Its primary function is to be a high-quality, stylish writing implement that sparks creativity and a positive atmosphere.
Meet the Hoverpen 2.0: Interstellar Edition
Introducing our boldest and most radical design yet – the Hoverpen 2.0. This impressive pen will undoubtedly be the centerpiece of your desktop setup, leaving your colleagues and friends in awe and envy. The pedestal of the Hoverpen is highly precise, with a ring of magnetic repulsion that keeps the pen balanced at a 23.5-degree angle. This engineering marvel defies gravity, making it impossible to ignore. Not only is the Hoverpen 2.0 designed to impress, but it's also highly functional and precise, making it the perfect addition to your workspace.
Elevate your writing

Make any office desk fascinating

The perfect gift for someone who already has everything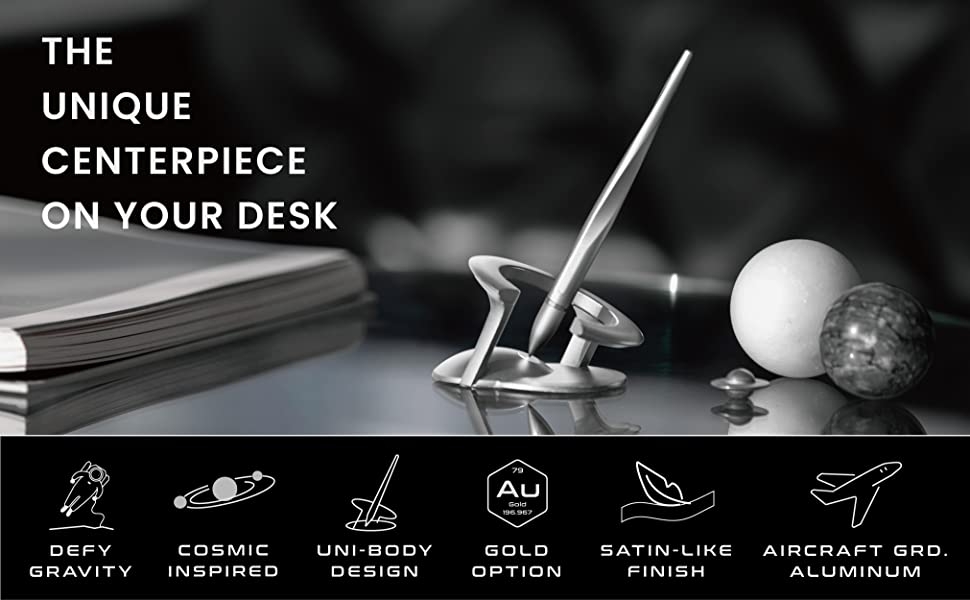 Executive Luxury Pen that Hovers for Decades
Inspired by space, the Hoverpen 2.0's pedestal features a new shape that will catch the eye of sci-fi and space exploration enthusiasts. The magnetized ring design keeps the pen suspended in place, giving it a unique "floating in space" flair that is sure to impress. This design element adds to the allure of the Hoverpen 2.0 and makes it a must-have for anyone who appreciates futuristic and innovative designs.
Crafted from a single piece of aircraft-grade aluminum, the casing of the Hoverpen 2.0 is a masterpiece of high-quality craftsmanship. The body is uniquely machined as one long piece of metal, giving it an aura of sophistication and quality that is rarely seen in other pens. This attention to detail and precision makes the Hoverpen 2.0 a true work of art that you'll be proud to display on your desk or carry with you wherever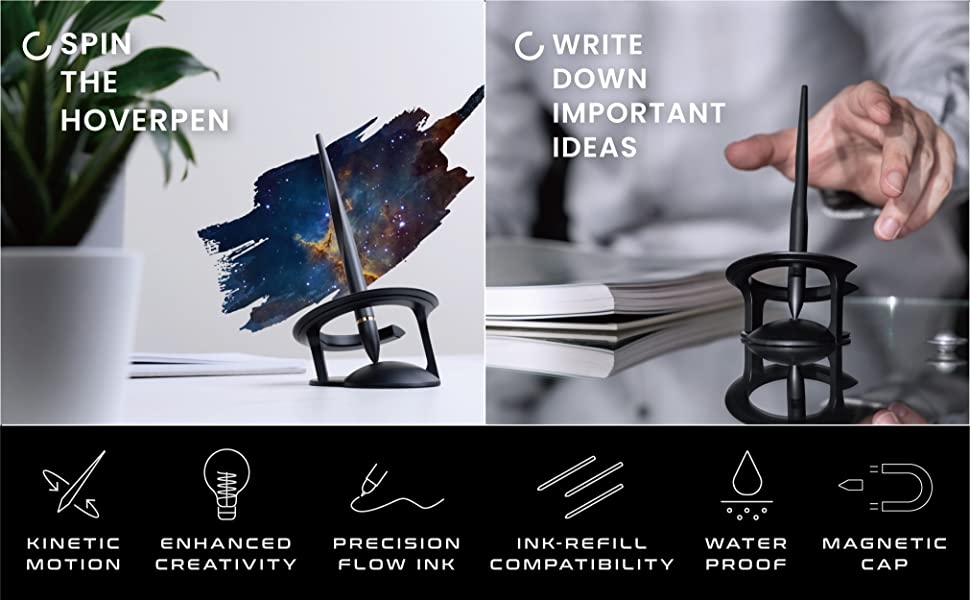 Engineered to Defy Gravity, Spin, & Inspire.
The Hoverpen 2.0's new ridged design makes it a mesmerizing marvel to watch when spinning, with its circular acceleration and deceleration now fully visible. With a simple twist, the pen can spin for up to 20 seconds in flawless, kinetic motion, providing much-needed entertainment during dull workdays. This fun and hypnotic pen is not only great for fidgeting but also for improving creativity and problem-solving. The Hoverpen 2.0 was designed around the idea of task-switching, with micro-breaks to improve both convergent and divergent thinking. Take a moment out of your day, spin the pen, and boost your creativity like never before while pondering the mysteries of the universe.
Fidget Friendly

We have a deep fascination with magnetism, which is why we've incorporated it into every aspect of the Hoverpen 2.0. The cap of the pen is magnetically designed to snap into place, and you only need to hold the pen a small distance from the lid for the cap to get sucked onto the pen.

Ready for Signature & Note Down Important Ideas

The Hoverpen 2.0 is designed for comfort and ease of use during long and strenuous writing sessions. With a soft, ergonomic finish, it feels like satin in the hand, providing a gentle and comfortable touch. The curved lines of the pen are visually stunning and sit perfectly along the hollow of your hand, offering a more pleasurable writing experience.

Easy Refillable

To refill the pen, simply use the pincher tool provided with the pen to remove the cartridge. The Hoverpen Interstellar Edition uses D1 refills, which can be purchased online or at most stationery stores. Once you have the refill, insert it into the pen and use the pincher tool to secure it in place.