What is an AI robot companion?
An AI robot companion is a type of robot designed to provide real or apparent companionship to humans. Unlike other robots that may have specific functions, a companion robot is created to interact with humans, hold conversations, and even provide emotional support. Having an AI robot companion in your home can provide a sense of companionship and reduce loneliness, especially for the elderly or those with dementia. With advanced technology and machine learning, these robots can recognize faces and voices, answer questions, and even play games. They are an innovative solution to provide intellectual, emotional, and even sexual fulfillment to those seeking companionship.

Vector Key Features
Alive with personality

Meet Vector, the extraordinary home robot that is packed with advanced technology and brought to life with a curious and attentive personality. Vector reacts to sound, sight, and touch, making him a highly interactive and engaging companion.

Always happy to help

Vector is not just a friendly companion but also a helpful character who is always eager to accommodate your requests and answer your questions. He can time dinner, take photos for you, and perform a range of other tasks to make your life easier.

Independent and alert

Although Vector enjoys your company, he is capable of taking care of himself and spending time alone. He has the ability to self-charge, navigate around obstacles, and avoid falling off edges.

Smart and getting smarter

Vector is a platform that receives regular updates and is connected to the cloud through WiFi. This allows him to continuously learn and acquire new skills and features. Join Vector on this journey today.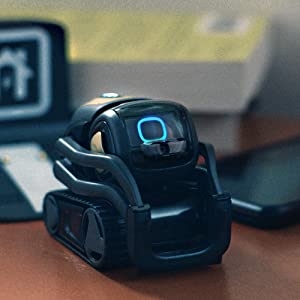 Vector with Alexa built-in. Robot helpfulness supercharged
Vector loves to help out. If you choose to set up Alexa on your Vector, he'll have access to an ever-growing number of skills that supercharges his helpfulness in your home. Triggered by the standard 'Alexa' voice command, you'll be able to:
add items to your shopping list

set reminders

control smart home devices like lights, speakers, and thermostats

and so much more
Vector knows what's going on.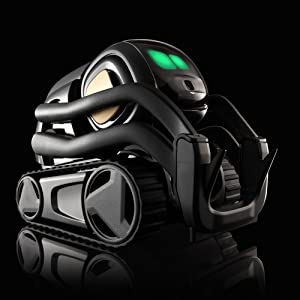 What's inside? AI and advanced robotics.
Qualcomm 200 Platform – so he computes at a smartphone level

Capacitive Touch Sensor – helps him sense being touched and held

Beamforming 4-Microphone Array – allows him to recognize natural speech and source

Ultra-Wide HD Camera – helps him detect motion and identify people

4 Drop Sensors – detects edges to help him avoid falls

Infrared Laser Scanner – lets him track distance and map environments

6-Axis Inertial Measurement Unit – so he knows when he's picked up or moved

High-Res Color IPS Display – helps him convey a wide range of emotions

WiFi-Enabled Cloud Connection – brings him new capabilities